FOUR MORE YEARS
Lana Adams
November 7, 2012
President Barack Obama was re-elected to serve as President of the United States of America for four more years last night.
I had no doubt in my mind that he would win. I remember my dad asking me back in 2010 if I thought the president would be re-elected and I said yes. I believed it then, I believed it when I cast my ballot to vote and I was right **toots horn**.
Although the media and the exit polling results helped to prove that this was a close election, I would hope that we as Americans, have learned a great deal from this election and presidential campaign.
I know that POTUS has learned a great deal, as he pointed out in his victory speech last night and I am hopeful that he will use this newly discovered wisdom in the coming years.
Some of the conversations surrounding the election and voting have been very troubling. While I have seen many young people motivated and inspired to exercise their right to vote and be involved in the democratic process, I have also heard some of the most uninformed and misguided statements from my peers. I know people who didn't vote at all because they say the president didn't do enough for the poor. Do I think the president could be more vocal about the conditions and issues affecting the poor? Absolutely. On the other hand, I feel that the President's plan of investing in education and offering tax cuts to the middle class will have a direct affect on the poor. I know that this is not enough for some people. I know that some people need him to broadcast for "the hood" at all times but I think that is an unrealistic request of the President of an entire country.
There are some movements such as, #Occupythehood  (@Occupythehood on Twitter)  that are geared toward organizing minorities in underserved areas and engaging them in the political process to get their issues to the top of the president's list. I hope more of these groups are formed and put into action because simply "hoping" that the President will represent every issue that plagues minorities simply on the premise that, "he's just supposed to" isn't smart at all. "Hope" may have made for a good campaign slogan but organization is the key to progress. This was ever so evident with the results of this presidential election.
What would've happened if women no longer had the choice to govern their own bodies or if they no longer had access to the minimal healthcare they have now in order to treat and prevent the diseases that so disproportionately affect poor, African Americans? I am black and female and I couldn't afford to take that chance by voting for the Republican candidate, Mitt Romney. I have no desire to support a party that does not support me. Women's issues can be found at the bottom of that thick binder Mitt Romney is so proud of and they're far too important to me to be brushed under the rug.
I just want to encourage people not to let the media tell you who to vote for. Vote on the issues. That's what democracy is about.
Bipartisanship is going to be so important in the coming years. The President is going to have to lead in a way that forces congress to put politics aside and find reasonable solutions to the issues. There are SO many issues.
To get back to the lessons learned, I hope and pray that the Republican party has discovered their AHA! moment. You cannot alienate minorities and ignore women's issues and expect to win an election. This strategy may have worked 50 years ago, but in 2012, that's just not going to fly.
I'm a firm believer that thoughts become things and what you speak into existence shall be. That being said, I'd like to suggest a small detail that could help to move the Republican party forward. It's just a small thing, I promise. STOP calling yourself  "The Grand Old Party."
If this election has proven anything, it's that old policies and ways of thinking will get you nowhere in this country. It is time for the Republican party to start thinking in the "now". Republicans need to evaluate how conservatism is defined. Is conservatism merely an ideology that disregards anything that opposes Biblical and traditional values? If that answer is yes, "Houston, we have a problem."
There will be 20 women with seats in the Senate come January  and that alone should be enough to show the world that we are moving forward.
Forgive me if this post was all over the place but I'm filled with so many different feelings after this campaign. We still have a way to go in this country but it's encouraging to know that the only way to go from here is, up.
HURRICANE SANDY: POLITICS AS USUAL
Lana Adams
October 30, 2102
Many people along the East Coast are cleaning up after the devastation caused by Hurricane Sandy. The residents of the Barrier Islands and surrounding cities of New Jersey have been extremely damaged as well as select areas of New York City.
I, like many others had been watching news coverage of Hurricane Sandy since late last week. The media had predicted a Category 1 Hurricane set to hit Philadelphia sometime between Saturday night and Sunday morning. This prediction was soon amended to late Sunday night into Monday morning and resulted in a downgrade from a Hurricane to a Tropical Storm by Monday evening.
Many businesses closed in anticipation of Sandy's arrival and pubic transportation was shut down in a number of cities including New York City, Philadelphia and New Jersey.
The New York City Stock Exchange closed its doors Monday and Tuesday. The NYSE had originally planned to operate electronic trading on Monday but eventually made the decision to close completely.
My prayers go out to all of the families and businesses affected by Hurricane Sandy.
The popular micro-blogging site, Twitter, was all aglow for the past two days as many people suffered from cabin fever due to Hurricane Sandy. Many people even criticized the storm for being underwhelming.
One user tweeted: "hurricane" sandy is the most pathetic hurricane i've ever been in.#weak" ( @CarlyWeiss)
Others had more compassion for the victims of the hurricane and recalled the devastation left by Hurricane Katrina in New Orleans.
"Why is everyone comparing Sandy to Katrina and saying how weak it was? Um,do you want to Sandy to be destructive and leave you w/ no house?!", Twitter user @_lidss tweeted.

Still, I'm left to wonder if Hurricane Sandy was a little more than a tropical storm. You can't turn on a network television station right now without seeing coverage on Hurricane Sandy. During the storm it seemed as if local Philadelphia news stations were playing a game of who can get closer to the tidal wave as they covered the shore areas and barrier islands.
Philadelphia news outlets weren't the only stations playing up the scare tactics during Hurricane Sandy either. Patricia Swayne of PG County, Maryland wasn't particularly fond of the coverage there either.
"Hurricane Sandy really annoyed me. I was frustrated and confused by the panic being perpetuated by mainstream media and our government, local and federal. I felt like I was being terrorized–they were scaring people into a state of submission and obedience. I will admit, I stayed on edge for most of the day. Mostly because I didn't want to lose power, and I didn't. I was glad I didn't believe the hype. But my heart goes out to those who were seriously devastated. I'm hoping for a speedy recovery for NY and NJ," Swayne said.
Hurricane Sandy seemed to be unfolding as an exciting primetime television show with all the makings– bad storm, power outages  risky locations, misleading news reports and yes, political warfare.
National news networks like CNN have been running continuous coverage of what they're calling "Superstorm Sandy".
CNN and The Weather Channel have faced some backlash after CNN  meteorologist Chad Myers falsely reported that there was up to 3ft. of water on the floor of the New York Stock Exchange due to Hurricane Sandy. Myers reportedly made this claim during an interview on Piers Morgan's television show.
"This will have an influence worldwide on people's wealth," CNN financial journalist Ali Velshi said following Myers' report.
CNN and Myers have retracted and corrected the statement. Myers said he retrieved this information from the National Weather Service chat bulletin board.
Spokesman Chris Vaccaro of The National Weather Service is also denying that such a report was released.
Pat Kiernan (@patkiernan) of NY1 tweeted this picture of the NYSE floor following the false reports.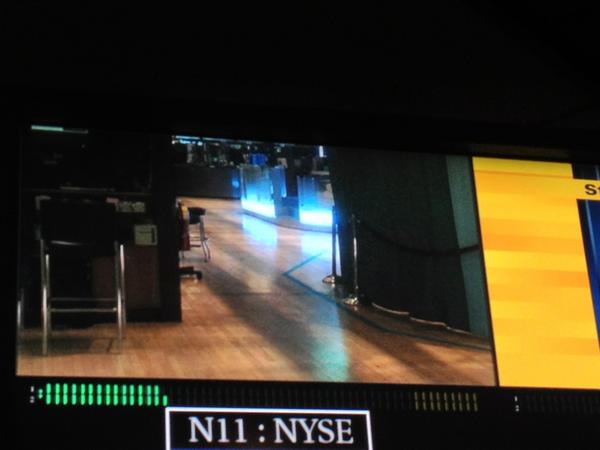 Statement retractions and corrections are a part of news and I'm sure many Americans are letting out a sigh of relief to find that the reports were false. However, we live in a world where news is spread instantaneously via social networks and can reach millions of people in a second. One has to wonder what kind of damage that statement did to the anxiety of shut-in Americans in just that short time. You can retract it but you can't really take it back, once it's on the internet. One would expect a source as credible as CNN to do some fact-checking prior to releasing such information. It leaves me wondering if news outlets are more concerned about the shock value of the story rather than the validity.
I would hope that this isn't true, not just because I am a journalist but because I hold the news media to a higher regard. Have we gotten lost in the "fear factor" of news rather than the verity of it?
This "Perfect Storm" soap-opera also played out in politics as well. I don't consider myself a conspiracy theorist at all but isn't it timely that this storm fell a week before election day?
But forgive me, New Jersey Governor Chris Christie says he could "give a damn less about Election Day," in light of the recent storm. The governor warned that the people of New Jersey would be upset with him if he cared more about getting them to the polls than getting them back into their homes.
This statement came a few hours after the Governor attacked Atlantic City Mayor Lorenzo Langford for what he feels, was encouraging Atlantic City residents to stay in their homes during Hurricane Sandy.
"Despite my admonition to evacuate, he gave them comfort for some reason to stay," Christie said in a news briefing.
The Governor called Mayor Langford a "rogue mayor" after the mayor told residents that chose not to evacuate that there would be shelters in place and advised them to use the emergency telephone numbers for help.
Mayor Langford has since responded to Governor Christie's comments in an interview on The Today Show with Matt Lauer.
'The governor is either misinformed and ill-advised or simply just deciding to prevaricate," Langford said.
Lauer told the mayor that there would be a possible opportunity to have both the mayor and the governor on air together. Langford responded by saying he would love nothing more than to talk to the governor "mano-y-mano".
Mayor Langford and Governor Christie have been at odds many times before concerning the leadership of their constituents. The governor has criticized Mayor Langford for ineffective leadership and has held him responsible for Atlantic City's high crime rates.
Mayor Langford has condemned the Governor for his comments regarding Hurricane Sandy.
"Isn't it sad, that here we are in the throes of a major catastrophe and the governor has chosen a time such as this to play politics. I think it's reprehensible that he would stoop to the level to try and make a political situation out of something that is so serious as this situation is right now," Mayor Langford said.
Okay, we interrupt your programming for a brief message from our sponsors. Did you almost forget that there was a storm and homes were destroyed and people displaced while you were watching all of the drama unfold?
Don't worry, I'm here to keep you grounded.
If you can get a break between on-air retractions and political battles, please remember that Hurricane Sandy claimed at least 66 deaths in the Caribbean and a reported 13 deaths in the U.S.
I have turned my television back on this evening to see the same news stories mentioned above being recycled and funneled back onto the airwaves. I'm left to wonder if Hurricane Sandy is the "big story" or simply a platform for political agendas and increased television ratings. Politics as usual.